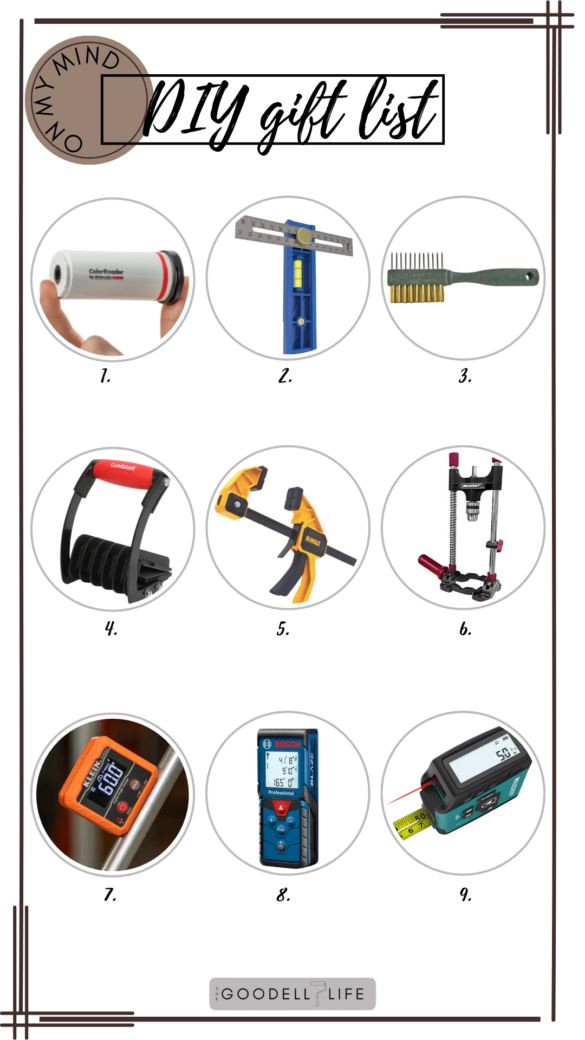 Are you looking for the perfect gift guide for the DIYer in your life who might already have a full shop, or has your typical tools already? Look no further – here are 9 ideas that are sure to satisfy even the more experienced DIYers you know! A variety of prices and sizes, this is sure to fit any budget – or stocking. Click below to jump to the specific item, or scroll to read them all.
This tool may fit in a stocking, but makes a great gift. It has been on my list for a while! While there are multiple brands out there that make colour readers, this one is not specific to any one paint company and will be able to give you matches to a variety of brands. I see this coming in handy when trying to find a similar colour in a different brand, finding tones in fabrics, and just have in your back pocket for those times you ask "what colour is that???"
Another one I keep thinking "man I need that" every time I see it, but isn't at any of the stores I frequent regularly. This is an easy and efficient way to mark those pesky small measurements that your full tape measure is cumbersome to use for. A great thing for the woodworker or DIYer, or even sewer in your life. Around $20 and found on Amazon, you can even have it shipped to you directly if you want to avoid the crowds.
You already know that I love my Wooster paint brushes and rollers, and while I advocate for washing them regularly, sometimes you need a bit of help. I have been using nail brushes, but have been looking for something a bit heavier duty when I saw this at a local paint store. This looks like the perfect tool that I was needing, and I can't wait to get one in my arsenal!
Have you tried to lift up a sheet of plywood by yourself and it just didn't work? Or really anything that's kind of awkward in length? I am not very tall at 5'5″ and many larger sheet items just are cumbersome for me to haul around by myself, which slows down projects. If you have a DIYer in your life, I'm sure they'd love a panel carrier to make the job easier!
No one who works on projects will tell you they couldn't use more clamps. If they are, they're being nice. There is no limit to the amount of clamps that can be used. We have these Dewalt ones and they're great!
I will never not sing the praises of this tool we should have gotten years ago. Even when you think you're drilling straight, this just helps guarantee it. We used an bit extender to help extend our depth even more. Hint: This is the only reason we could put up the floating shelves. Cannot recommend this enough!
Never hope that your saw is exactly 45degrees again. Need a weird angle? This will guarantee you're at it exactly, and level. It is magnetic so it will stick to the blade or whatever other metal surface you may need to measure. Sure you can use other tools and strain your eyes looking at tiny numbers, but why when you can quickly know at a glance? This is on my list to add to the shop asap.
This is a great little gadget to keep in a DIYers tool kit. Working by yourself? Easy. Need to measure something to the ceiling but you can't reach? Done. There's a variety of these out there with different distances and features, but this one continuously gets great ratings around the internet.
Can you tell that I'm really fond of things that help me measure? LOL I saw someone using a digital tape measure on Instagram and immediately sent it to Joe saying WE NEED THIS. This one has great reviews, is on sale at time of posting, and looks like it doesn't take up much room! PLUS it even remembers previous measurements, so you don't need to carry around papers with you everywhere trying to remember if you brought a pencil with you too.
Do you have any DIYers on your list? Or are you sending this to Santa for some extra hints? 😉