Canadian Thanksgiving is JUST around the corner, with America's not far behind. Fall weather brings people indoors (with limited numbers thanks to the panini) which means the average bear of us might be hosting a bit more that we have before! I love a well dressed table. It sets the mood, tone, and energy for the dinner. You can dress it up, dress it down, and really customize it to your own event. Or heck, make a regular dinner feel a bit more elevated. Which is why I love an easy fall tablescape that can be used on so many occasions.
This year's table started with inspiration from these great tabletop rosemary plants I got from the motherland Home Depot for only $3.99 a piece! I actually told everyone they were $3.50 but then checked my receipt and was wrong – whoops!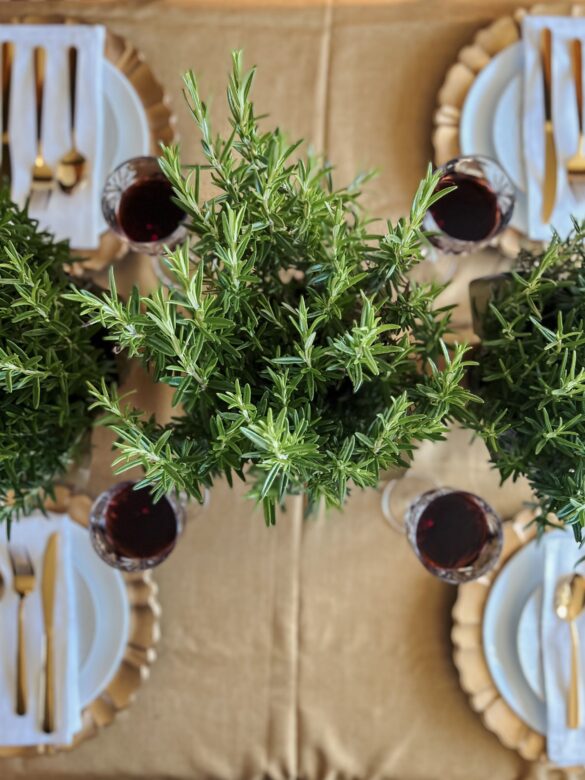 I then shopped my house for things that seemed cohesive and suited the season. This turned out to essentially be all gold/brass!
Dishes
If you are wanting to do tablescapes for holidays, but don't want a ton of extra dishes, I highly suggest getting plain white or black dishes for your daily set. These white dishes are our daily users, and from Ikea! Our set isn't made anymore, but this one is similar. A neutral base set of dishes can be dressed up, or down, with side plates and chargers. Looking at places like Homescense or even the dollar store, you can get side plates and chargers often for a good price as well!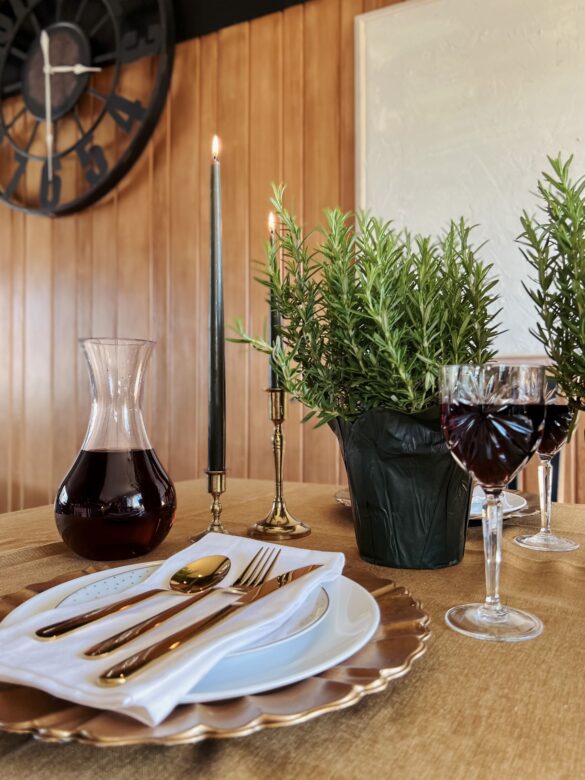 Napkins
I got these white linen napkins from Pier 1 when they were closing out here in Canada. I love the simplicity of them (are you sensing a trend). They can be used for many different seasons or occasions while remaining timeless. For this tablescape, I opted to just lay it overtop of the side dish as a base for the cutlery. You can also look up different napkin folds to spruce it up if you wanted!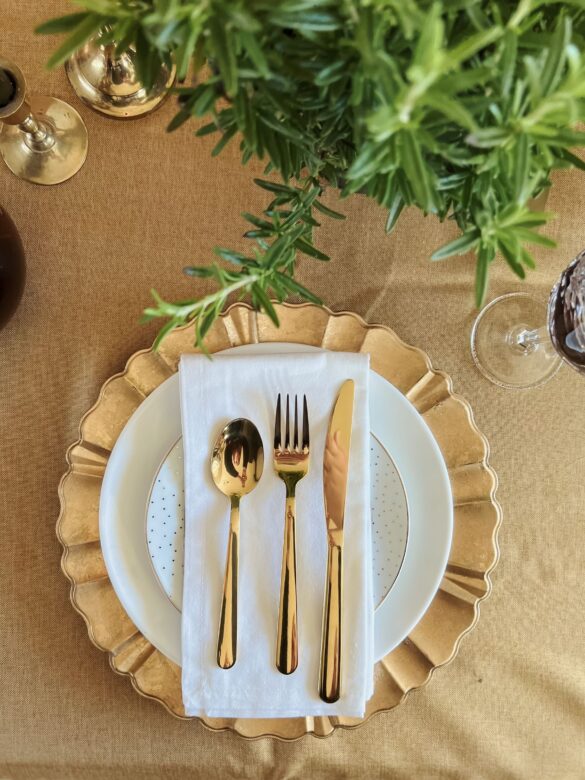 Ambiance:
As always, lighting candles in any season or occasion will make it feel warmer (see what I did there?). I got these dipped candles and brass candlestick holders from a local store called Far and Wide. I like the subtle point over the blunt tapered ones I've seen in other stores. Any candle will elevate your easy fall tablescape though!
Bonus:
If you're near Halloween, or don't want to break open a bottle of wine for photos, use food colouring! I used some red and a few drops of blue. As the blue mixed in though, it gave a great creepy vibe. Highly suggest for freaking out your friends when they come over 😉
Recreate the look:
Small plates* (mine are actually Christmas plates but the napkin hides the reindeer 😉 )
*these are similar items, but not the exact same. I cannot speak to their quality.
Happy thanksgiving and fall! To check up on our daily activities, make sure to follow along on Instagram! And our kitchen renovation posts can all be found HERE.