Once we I realized we would need to redo the tub surround and that hiring it out wasn't an option, I started to research different DIY friendly installation tips. The one that came up the most was to use the Kerdi system by Schluter. Now, there are a lot of pros to using this! And I was happy with the installation. But like most things, the foundation is one of the most important parts for a good tile job…. Which is why I probably won't be using it again.
If you're just tuning in now, our tub surround cracked in many places when I re-caulked it. We used some flex seal tape for the last year and now are tackling doing a new tiled surround. We are doing most of the work ourselves, but the tile work is being mostly done by my neighbour who is a tile setter by trade.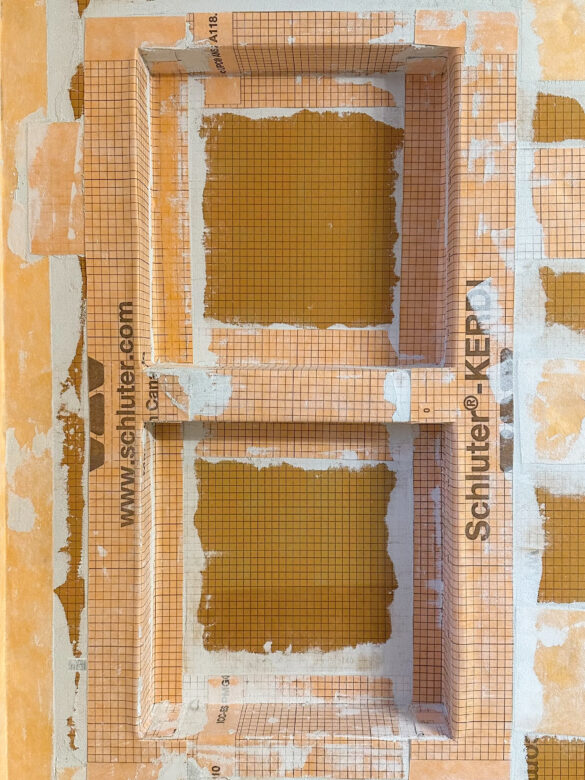 The good:
Easy to install

The Kerdi board was lightweight and easy for me to move around. It has some pretty user friendly screws and instructions.
Not much more expensive than other options.

Anything for waterproofing is pricey if you want something that is naturally waterproof. You have to weigh your time into the equation as well which I would say does make this more expensive, but on pure materials alone it didn't come up to me as a red flag. Side note: to buy Kerdi band, buy a larger roll and cut your own 5" strips – it will be much more economical.
No dust

Because the Kerdi board is foam, it is naturally water resistant and light weight. It also means there is no dust when you cut it -makes cleanup not too shabby. And that's coming from someone who hates clean up from a project.
Easy to find

Schluter is a large brand and with DIYs becoming more and more common, it is easy to find the Kerdi system at most home improvement stores.
Kerdi fix got top stars from tile setter

My tile setter/neighbour/friend was super impressed with the Kerdi fix. She said it had really good properties and is much nicer to deal with compared to silicone.
Lots of information online available

Need a video on how to install? Schluter has a YouTube channel with all that. Need to remove the Kerdi Fix from a surface? There is a video for that. Need a smaller batch of all set? There is a chart on Reddit. The information is plenty.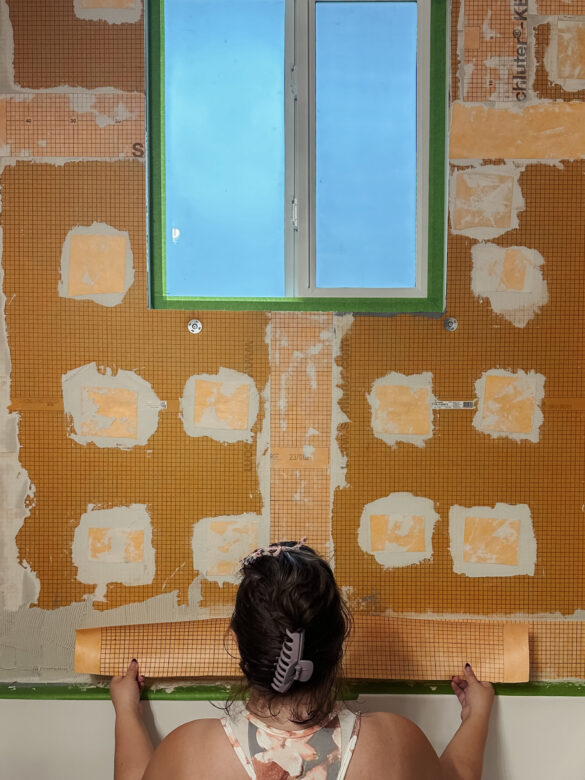 The bad:
Too much flex

Unlike more traditional methods, there is a lot of flex in the boards. Even with extra reinforcement, when you press on it, you can see the wall visibly flex. It also causes big dips where your screws are installed. This makes it extra challenging when laying your tiles to ensure they are level across the surface.

Difficult to cut

No dust is a huge pro, but you trade that for ease. This needs a VERY (see: brand new) blade and wears out the blades quickly. It works a bit better with a multi tool, but then there is an additional tool you will need to get. It takes many passes through with a knife and is slow going. It also can't be shaved if you are used to cutting things a hair big and shaving it to get a perfect fit.

Corners either are bulky or expensive

Kerdi has a lot of membrane options for around pipes, as well as your inside and outside corners. Inside corners are easy enough to make yourself, but outside ones are less so. And even in making it yourself, you add extra bulk in those areas with more mud and membrane. You can buy the pre-made ones, but they run you approx $25 for a pack of 2. One niche is $50 in just inside corners – not talking about the outside ones. This is where it can add up.

Requires additional mud and membrane over screw holes

For the Kerdi product guarantee, you need to cover easy screw hole with mud and membrane. This still does not fully offset the dip though caused by the flex, so your wall ends up in a bit of a wave. This is not beginner friendly for most people, and is even a challenge for experienced tilers.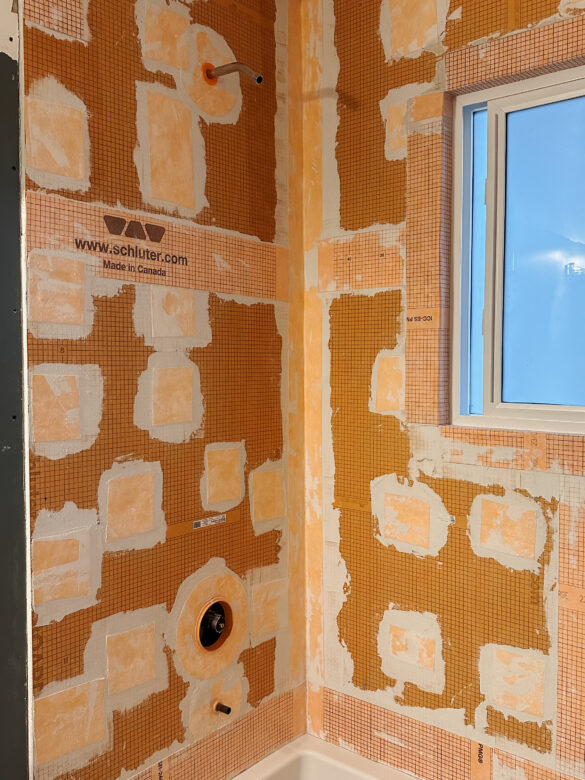 What do the pros recommend:
Use DensShield tile backer

This is a fibreglass enforced drywall. More rigid, and easier to cut (like drywall). It is automatically waterproof and does not absorb moisture. Also similar price per sheet as Kerdi.

Use membrane only in corners and seams.

If you really wanted to cover the screw holes, just use the kerdi fix. She just uses mud.

The less membrane the better – you want your foundation rigid, flat, and level in all directions.

Whether you decide to do the tile work yourself, or hire it out, a good foundation will make all the difference in how the rest of your project goes. It is possible that there was some user error, but given Joe literally owned a drywalling company previously and that we followed all the directions, some of it is just the product itself. Take what you need from it, leave what you don't, and learn from our mistakes.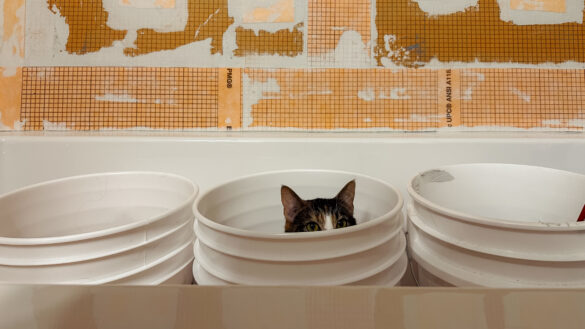 Read about the rest of the bathroom saga here: