It feels just like a few months ago I was writing out my goals for 2021, and here I am thinking of our goals for 2022. I have a lot to say about this last year and all that has happened… it was a literal rollercoaster of emotions. One constant though was DIY. Specifically.. the kitchen that was supposed to be done in May LOL
Let's recap some of the plans we had:
plan garden
paint fascia
build Adirondack chairs
paint office
re-caulk bathroom and paint
refresh the laundry room
refresh the bathroom downstairs
redo the bar downstairs

What have we done?
It is no surprise to anyone that the kitchen has escalated dramatically in scope, and therefore time horizon. We are looking like that might be done mid February… about 9 months past due. I could focus on how this threw the rest of our projects out the window, but that does no good. I do know that I will be so happy with the final kitchen project though!
Planted the garden. We had a successful harvest this year of multiple pumpkins, tomatoes, eggplant, zucchini, and beans! We've learned more of what we want to do next year. A garden is an ever growing and learning opportunity.
DIY irrigation. We completed what turned into being the BEST decision for the garden yet. Highly recommend!
Painted fascia (3/4) on shop. We didn't get to paint the house, but we got most of the shop done and will be able to finish that goal for 2022.
Created a new garden bed in the front of the house! We worked on our front landscaping a lot this year by giving one bed a facelift, and creating another small one for a tulip garden. I can't wait until spring when it all starts to pop up!
Small crafts such as painting the mirror in the living room, the joint compound art, umbrella stand, Christmas tree out of tomato cages.. basically a lot of things I should have made blog posts for but didn't have time. I will work on this next year!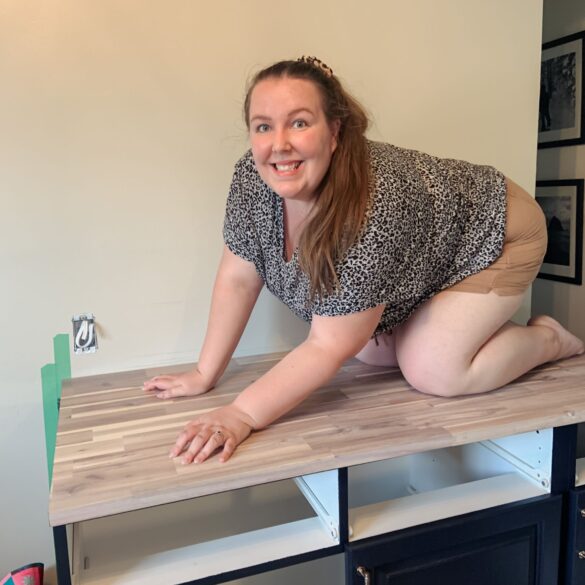 Goals for 2022:
Instead of going by month, I am going to break it down by inside and outside projects.
Outside:
dig to put irrigation in ground
ground cover paths in the garden
plant more tulips
finish painting fascia on shop
maybe hire out painting fascia on the house??
Inside:
finish kitchen
paint office (for reals – this blue is killing me)
complete laundry room
complete bathroom downstairs (well, phase 1)
tidy up some 95% projects (erm the baseboards in the living room…)
2022's goal list at a glance seems smaller than previous years. And still, I am hopeful, but worried, we won't hit it all! Projects take a lot of time with both of us working full time. They also take a lot of money! We've learned the hard way that it's what is behind the walls that often costs the most.
Do you have any project goals you want to accomplish this year?