We left off tearing down the cabinets on the final wall, and framing it out. It's been about 6 weeks and there has been progress, albeit slow with the holidays. I am SO happy to say though that I think I can see a finish line of the kitchen renovation within the next 4-6 weeks!!!!! Thank the sweet baby Jesus that this project might actually end LOL
Just popping in now? Catch up here:
Hiring some out
While you know we DIY, this wall we had the most professional help with! After we got the walls up, we had Jesse from Waymac Electrical come run the plugins and prepare for the pot lights. We also had Bryce from Sagebrush Plumbing come run the gas line. He also found (and fixed) 2 small gas leaks in our basement!! After that, our friend Kris from Raven Drywall came by to close it all up! Some of you may know that Joe used to own a drywall company, but we decided to call in the professionals for this as he hates mud and taping and I didn't have it in me to figure it out. I am SO thankful for our tradespeople. They have been so great to work with and are 100% worth every penny.
While we had Kris here, we revisited the ceiling under the bulkhead area of the fridge wall. It was plywood and sort of rough in spots from where the upper cabinets used to be, and I had planned on covering it with hardboard but never got to it. We had Kris cover it with drywall and it looks so much better! While a small detail, it was one that I was constantly aware of.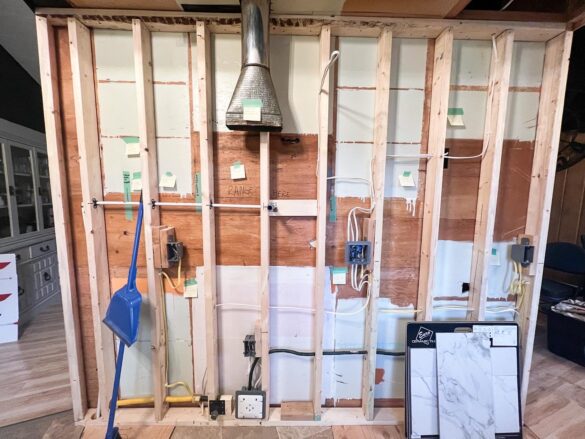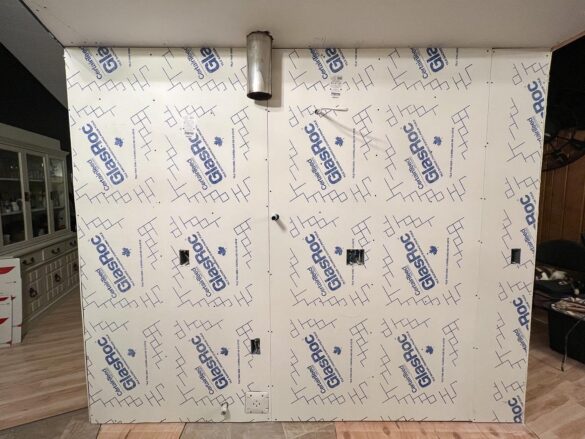 Painting
It wasn't long after Kris left that I got to priming and painting. Anytime you have unfinished drywall, it is best to prime it! And with this being a kitchen, Kris let me know that I would want something that had a primer AND sealer in it. We used a random container of primer I had in the basement that checked all the boxes.
In 2020 before we knew the world would implode, I was recovering and painting our dining set. In a fit of frustration over how scuffed this one black wall was, I rolled over it with my roller and was pleasantly surprised that it was the exact match of colour AND sheen. It was a risky move that paid off! I still have that quart of satin tricorn black, which made for one less trip to the store. It was an easy decision for painting the area above the stove and sides of the new wall to match.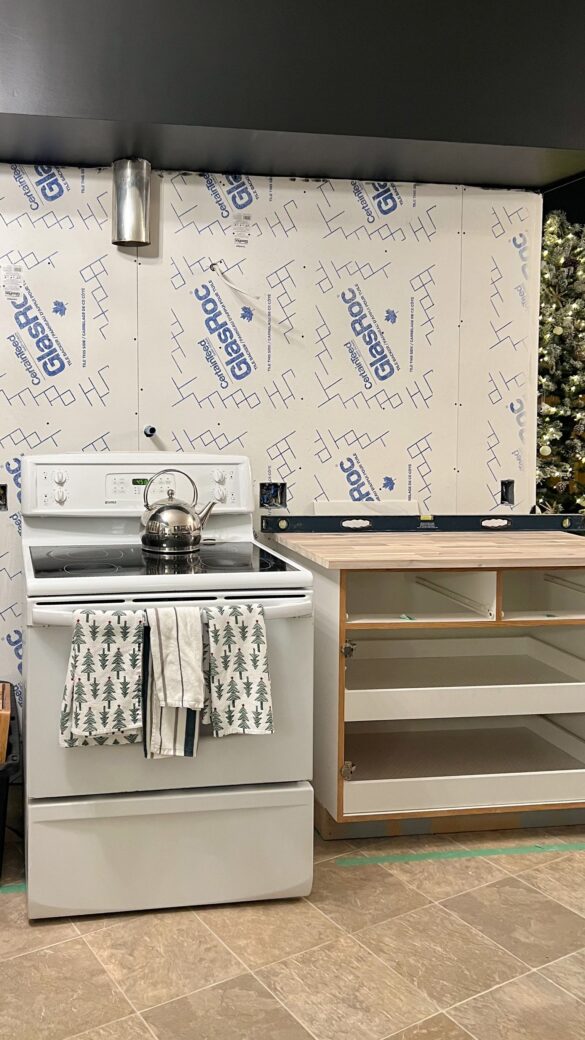 For the area above the fridge, I repainted it the same colour as the walls (what it was before).
Tile Decisions
We are so thankful that our neighbour Jill is a tile-setter by trade. She has offered to come tile for us and that is SO kind. The small catch was that she doesn't love working with big tiles, and that's what I had my heart set on. After searching for the last 6 weeks for tiles that met what I wanted, her approval, and were in stock… we opted to just get the bigger tiles and hire it out. We learned in this process that the smaller tiles go up substantially in price as they have more finished edges per square foot, which takes more labour. Essentially the price difference between the smaller tile with our neighbour installing, to the bigger tile and paid install was $5 a square foot. As I had no intentions of doing this again anytime soon, for us we decided to just get the bigger tiles I wanted.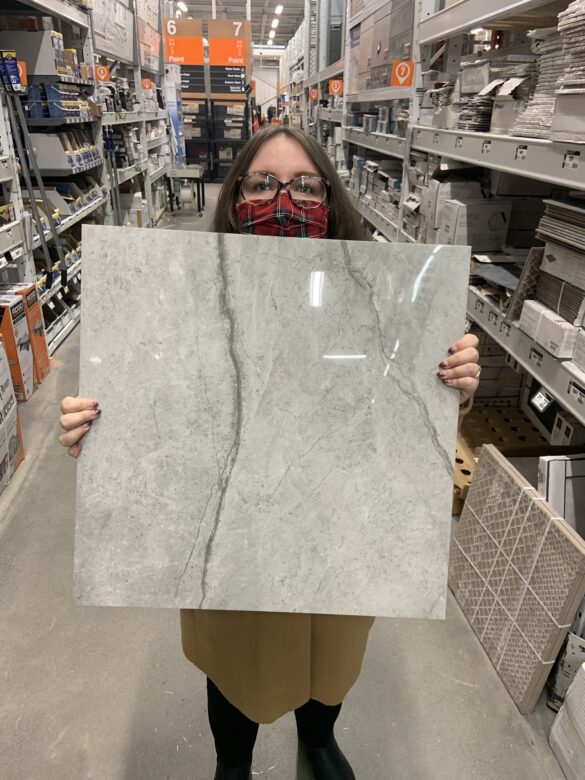 We are doing this through Complete Floors in Kamloops. They have been SO great to deal with thus far. As I've gotten older and more aware of what I want, I really really appreciate being able to go into places and just ask for that without spending hours searching on my own. Every curve ball I threw at the staff at Complete Floors, they were able to quickly just pick something out of their thousands of samples for me. There are literally thousands of options for tiles, and they have made the process so much easier. After a year of this kitchen renovation, I am tired of making decisions (decision fatigue is real!) and their expertise does not go unnoticed.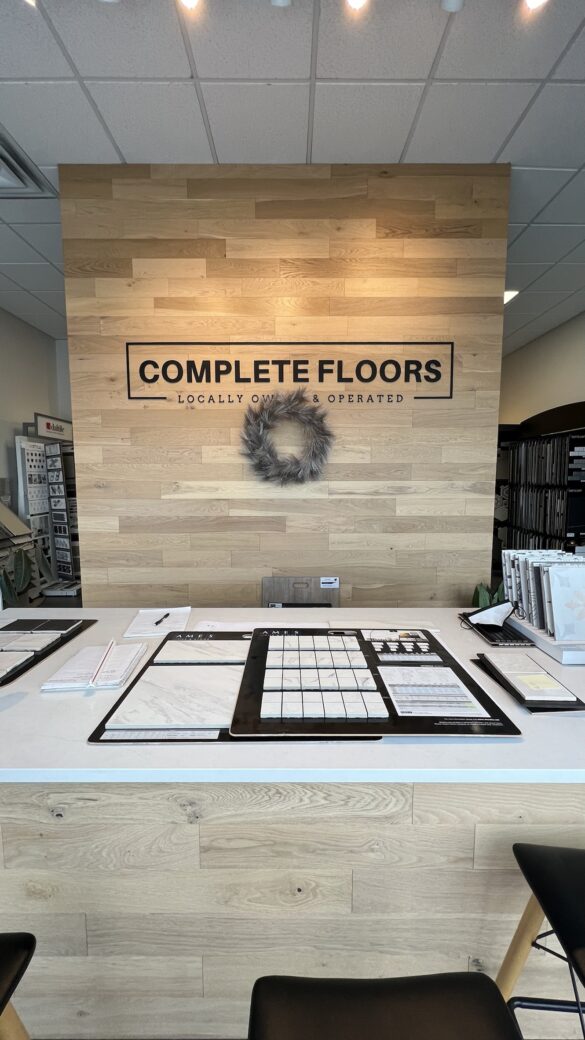 Our Next Steps:
Complete Floors comes by to measure for tiles
We install the cabinets and countertops
Start on floating shelves (we're going to build them so watch for a tutorial!)
Install hood vent
Electrician comes back
Complete Floors comes back to tile
Plumber comes back to install pot filler, range, and run a water line for fridge
finish floating shelves and the outside of the hood vent
CELEBRATE the kitchen renovation